All San Diego Hospitals Now Nationally Accredited for Geriatric Emergency Care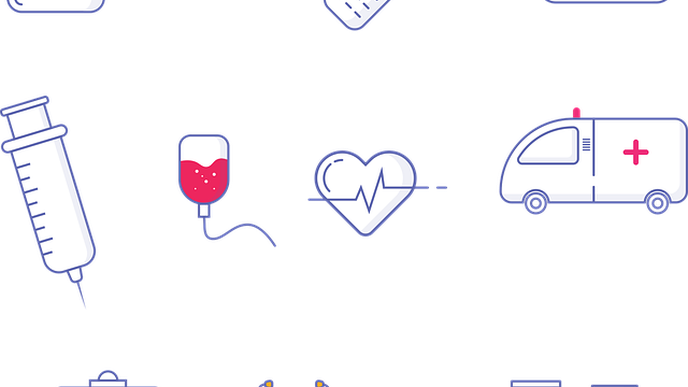 08/12/2022
Photo: Pixabay
San Diego has become the first county in the nation where every eligible hospital has earned geriatric emergency department (GED) accreditation from the American College of Emergency Physicians (ACEP), a major milestone that means older adults will now have access to specialized emergency care wherever they happen to live in the region.
The announcement was made today during a press briefing featuring representatives from each of the hospitals and health systems, local and state government, the Hospital Association of San Diego and Imperial Counties, and West Health, a San Diego-based nonprofit focused on improving aging. Countywide accreditation came about thanks to the San Diego Senior Emergency Care Initiative, a first-of-its kind public-private partnership spearheaded by the County of San Diego and West Health that began at the end 2019, just a few months before COVID-19 was declared a global pandemic.
"The goal was to ensure that no matter which part of San Diego an older adult was living in, they would have access to high-quality senior-friendly care before, during and after a medical crisis," said Shelley Lyford, CEO and Chair, West Health and a commissioner on the California Commission on Aging. "The COVID-19 pandemic, which disproportionately affected seniors, only made all our work that much more important and the accomplishment that much more urgent and consequential."
San Diego is now home to 18 accredited GEDs spread among Alvarado Hospital Medical Center, Kaiser Permanente San Diego, Palomar Health, Paradise Valley Hospital, Scripps Health, Sharp HealthCare, Tri-City Medical Center, UC San Diego Health and VA San Diego Healthcare System. According to county officials, the GEDs have the potential to touch the lives of the over 275,000 seniors who account for roughly one-third of all ED visits in San Diego. In California, only about 29% of older adults live in a city with a GED. Nationally, that number drops by almost half, with only 15% of seniors living in a city with a GED.
"This is a milestone day for San Diego County health care and its future serving our largest growing constituency, seniors," said Nick Macchione, Director of the County's Health and Human Services Agency. "It seems like yesterday, but it was three years ago, during the presentation of the inaugural Aging Roadmap to our Board of Supervisors, that the County prioritized its support of our hospital partners to develop a network of emergency departments for this population. I want to thank those hospital partners and West Health on this collective achievement to help our seniors Live Well."
"Hospital emergency departments are places of intense activity as caregivers work tirelessly to save lives," said Dimitrios Alexiou, President and CEO of the Hospital Association of San Diego and Imperial Counties. "But the sometimes-frenetic environment of an emergency department can be overwhelming — especially for older adults. Our hospitals are committed to creating more healing and supportive care environments designed specifically for older adults and today's announcement is a testament to that."
Many seniors struggle with frailty and mobility issues, dementias, polypharmacy, as well as other diseases and conditions that make them more vulnerable to medical emergencies. Beyond immediate care needs, GEDs can reach beyond a hospital's four walls to integrate acute care with essential community supports, services, and programs such as those provided by social services, long-term care facilities, and networks supporting older adults living with Alzheimer's and related dementias.
The rise of senior-friendly emergency departments correlates with the rapidly growing population of older adults in America. In San Diego County, people over the age of 65 will make up an estimated 21% of the population by 2030, up from 13% today, which is consistent with what is playing out across the rest of America. Over the same period, the U.S. Census Bureau estimates older people will outnumber children for the first time in U.S. history.
ACEP established its Geriatric Emergency Department Accreditation Program in 2018 in response to growing evidence that emergency departments are less able to meet health care needs of older persons who often have multiple chronic conditions and social support needs. The West Health Institute and The John A. Hartford Foundation provided financial support and foundational work for the program.
The program offers three tiers of accreditation based on multiple factors including geriatric-focused policies and protocols, clinical and patient outcomes and staff, senior-friendly physical environment enhancements and quality improvement initiatives. With the support of West Health, the Gary and Mary West Senior Emergency Care Unit (SECU) at UC San Diego Health was the first in the state to receive the top level of GED accreditation back in 2018.
According to ACEP, there are nearly 350 accredited GEDs in the U.S. California leads the way with 56, with plans for expansion, which is consistent with the goals of California's Master Plan for Aging, a 10-year blueprint released in 2021 to guide state and local government, communities, private organizations, and philanthropies in better caring for all residents at all stages of life. California is one of only five states to have such a plan.
In 2021, the Department of Veterans Affairs (VA) announced it has launched an initiative to improve emergency department care for older Veterans treated in VA Medical Centers and become the nation's largest integrated health network with specialized geriatric emergency care. The VA Geriatric Emergency Department Initiative is a public-private collaboration between the VA, ACEP, The John A. Hartford Foundation, and the West Health Institute to establish 70 of the VA's EDs as accredited GEDs.
About West Health
Solely funded by philanthropists Gary and Mary West, West Health is a family of nonprofit and nonpartisan organizations including the Gary and Mary West Foundation and Gary and Mary West Health Institute in San Diego, and the Gary and Mary West Health Policy Center in Washington, D.C. West Health is dedicated to lowering healthcare costs and enabling seniors to successfully age in place with access to high-quality, affordable health and support services that preserve and protect their dignity, quality of life and independence. Learn more at westhealth.org and follow @westhealth.