As Overdose Rates Rise in Philly's Hispanic Community, Racial Disparities in Healthcare Add to the Burden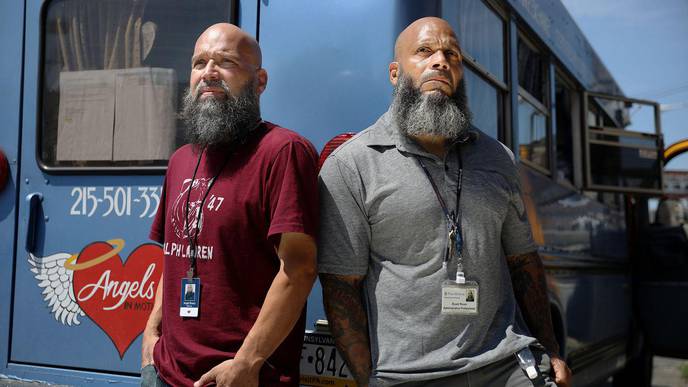 07/01/2020
Photo: Tim Tai
When one of Bryant Rivera's clients tells him they're ready to start addiction treatment, he knows to act fast. He helps them fight through the pain of withdrawal as they navigate a system where rehab beds are limited, and medicines to ease their misery remain heavily restricted by the federal government.
But when that client tells Rivera, a certified peer recovery specialist at Penn Presbyterian Hospital, they want a treatment center where they can speak Spanish, he knows his options are even more limited, and that the slim window of time to get a client help will close even faster.
"It's hard, when they're contemplating [recovery], and you're there to assist them and give them resources, but we have no resources to provide," he said. "It's discouraging to have to say, 'Oh, we have no places right now. Maybe in a few days.' We're dealing with a crisis, and a crisis can't wait until next week."
In recent years, the opioid overdose crisis ravaging Philadelphia has often been painted as affecting mostly white people. But even as overdose deaths slowly decrease among white Philadelphians, residents of color, and particularly Hispanic people, have been increasingly hard-hit by a rising death toll.
The death rate among whites declined by 22% in 2018 and by 3% in 2019. But the Black overdose death rate dropped just 14% in 2018 and had bounced back up to its 2017 rate by 2019.
Overdose death rates among Hispanics dropped by 9% in 2018 and spiked by 24% in 2019 — bringing overdose death rates about even with that of whites.
It's unclear what's driving increases in the overdose death rate in Black and Hispanic communities. Part of the problem may be shifting patterns of drug use in Philadelphia, city health commissioner Thomas Farley said last month, with more stimulants like cocaine and methamphetamine involved in fatal overdoses.
Fentanyl, the powerful synthetic opioid that has replaced most of the city's heroin supply, is again behind most of the overdose deaths. But deaths involving opioids alone dropped in 2019. The largest portion of drug deaths last year, nearly 48%, were due to a combination of opioids, which are depressants, and stimulants like cocaine and methamphetamine.
Cocaine-related deaths historically were more common among Black and Hispanic Philadelphians than whites, Farley said. Now, fentanyl is causing deaths among those groups as well, but it's unclear whether people are deliberately mixing the two drugs or buying cocaine laced with fentanyl that they're unaware of.
Regardless of what's behind the rise in overdose deaths, the problem is only compounded, outreach workers like Rivera say, by a lack of resources.
Rivera, who was born in Puerto Rico but grew up in Allentown, knows first-hand how difficult the road to recovery can be — and how many additional barriers addicted people in the Latino community face.
Rivera's entire family has battled addiction for decades. His father died of an overdose 20 years ago, and his youngest brother fatally overdosed in 2017.
Rivera has been in recovery for an opioid addiction for 12 years, and his oldest brother, Angel Rivera, an outreach worker on the needle-exchange van run by the advocacy group Angels in Motion, is also years into his own recovery. So is their mother.
As a peer specialist at Penn, Bryant Rivera spends much of his days driving around the city, checking in with clients, and helping them take the first small steps toward recovery. Always, he is working to build trust.
"[In the Latino community], we're big on respect. We're big on religion and on our family involvement. We stay within our nuclear family and we don't go outside of that for any advice," he said.
While isolation, shame, and stigma run deep for anyone in addiction, recovery becomes even more difficult for people who feel like the treatment system isn't built for them, he said.
"Speaking in a person's native tongue is the best way to engage," he said. "You really have to find that comfort zone in a person, and I feel we can only do that using our native tongue. It lowers the guards."
Part of Rivera's job is simply translating for clients as they begin treatment — just so they know what they're getting into.
"Everything gets lost in translation," he said. "People will just go along with treatment, and then leave, because it's not what they expected. A lot of Spanish-speaking people want to be inside a Spanish-speaking facility, and I can't even count five in Philadelphia. There's several Alcoholics Anonymous and Narcotics Anonymous meetings. There's a couple recovery houses in North Philadelphia, with six, seven beds in a house. It's not enough."
Nicole O'Donnell, Rivera's outreach partner at Penn Presbyterian, says she's lucky to have Rivera on her team: "I can't do the same [advocacy] for someone for whom English isn't their first language," she said.
Rising rates of overdose among Latino people are a national concern, said Elinore F. McCance-Katz, assistant secretary for mental health and substance use at the federal Department of Health and Human Services. The administration has launched several free training programs designed to help non-Hispanic healthcare providers reach out to the community.
"If we don't understand the culture that someone comes from and the belief system that they have then it becomes more difficult for us as providers to communicate with them effectively," she said.
It's a problem that illustrates the even larger crisis of racial disparities in health care access, said Samantha Baker-Evens, a nurse practitioner at Esperanza Health Center. At the Kensington-based program, she treats many patients from the majority-Black and Hispanic neighborhood with opioid use disorder.
For example, a study last year found that Black patients are less likely to receive the popular addiction-treatment medication Suboxone. A recent study out of the University of Pennsylvania found that Black and Latino overdose victims are less likely to be offered recovery services from the emergency room, even if they have private insurance.
"And if you're Black or Latinx and you're on Medicaid or Medicare, which you were more likely to be, they limit your inpatient recovery options," Baker-Evens said. "Both Latinos and Black people are more likely to be at risk of not getting quality health services, much less addiction services. The more surprising statistic is that [the overdose rate] hasn't been higher before."
Rivera said he's been encouraged that more people have paid attention to addiction in general over the last few years, as the overdose crisis worsened. But, he said, communities of color have been struggling with addiction for years.
"Why wasn't it noticed when my brother passed away, my father? It's always been a problem for me," he said. "We need the spotlight on the minority population on this. We have to shine that light on them."