'Better Prepared': OU Medical Students Work to Improve LGBTQ Healthcare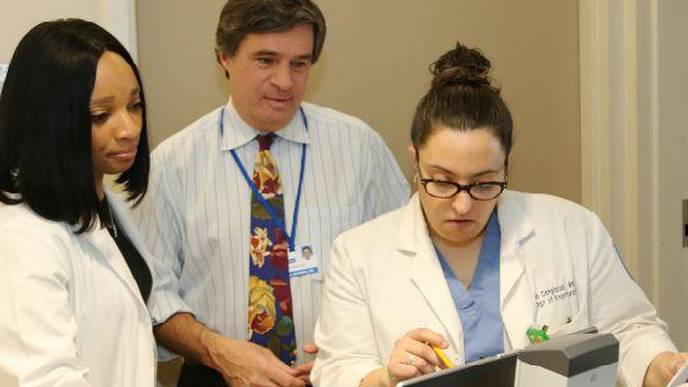 06/29/2020
New initiatives at the medical school are giving students a chance to learn more about communities with specific health care needs, including the lesbian, gay, bisexual and transgender population and more underserved groups.
LGBTQ people face several unique obstacles when seeking adequate care, said Riley Darby-McClure, a student who helped organize inclusivity coursework at the college.
"As a trans person myself, I know that seeking health care can be really scary. ... When you seek health care, providers might not be educated, they might make hurtful comments either intentionally or unintentionally — they might even refuse to provide care. This really amplifies the health disparities that already exist (for LGBTQ people). It's a really painful reality."
This led to Darby-McClure working to launch a pilot program last year in which LGBTQ community members were trained to portray scenarios with medical students. They shared feedback, recounted past experiences with health care professionals and discussed how students could improve relationships with patients when they eventually start practicing. In January, thanks to grant funding, the training was expanded into the curriculum of every second-year student at the College of Medicine.
"Something that was really important to us as we were putting together this workshop was having our standardized patients be people from the (LGBTQ) community. We wanted them to bring their authentic experiences," Darby-McClure told The Oklahoman.
"It can be difficult to find a provider who is not only educated, but makes seeking health care a comfortable place to be. If we can train students to be able to openly ask patients about their sexual history, that's gonna help them treat the patients better and get them the health care that they need. ... Once you understand them, you can serve them a lot better."
Dr. Shauna Lawlis, a gender specialist and assistant professor of adolescent medicine who helped implement the program, said the training goes beyond learning about different terms and preferred pronouns — it teaches students what to notice, what questions to ask and how to assess their own personal biases.
"In general, LGBTQ people have much lower access to health care for a variety of reasons," Lawlis said. "And often when they do seek out health care, they find they're discriminated against by health care providers or that the health care providers aren't educated in these areas and don't know how to provide them the help they need."
Lawlis said transgender people in particular are less likely to have health insurance but more likely to be turned away by medical providers. Without proper guidance, health professionals might not know how to respond when a transgender person asks for hormone or fertility treatment or be able to help someone seeking HIV prevention medication, she said.
"They tend to miss things because we're not screening appropriately."
Inclusive Care
Danial Gebreili, a College of Medicine student who participated in the LGBTQ training trial run, said the experience demonstrated the gap that exists between health care education and the distinct needs of marginalized communities.
Gebreili is chair of the school's Unity Clinic, a multidisciplinary, student-led organization that works to provide comprehensive and affordable care to Oklahomans — the first of its kind in the state. He said underserved groups like the LGBTQ community are less likely to seek specialty care and might instead opt for an emergency room visit, which can create financial burdens and leave them without long term solutions to potential health issues.
"When we initially brought together the (Unity Clinic), we wanted to make sure that we were serving every single member of our community to the best of our abilities. That meant being inclusive and understanding different populations of people," he said. "Every interaction is a cross-cultural interaction. Every patient has a different background, a different baseline understanding of things."
With that in mind, Gebreili took what he learned from the LGBTQ pilot program and developed the Unity Clinic's ability to treat patients of all types. The clinic was most recently hosted at the Good Shepherd Clinic in Oklahoma City and Gebreili hopes to soon take it on the road.
"We wanted to incorporate what Riley did into the Unity Clinic so that our students can be better empowered to take care of patients ... regardless of a patient's background. Being open-minded is a really key aspect to providing better patient care for future health care providers."
Better Prepared
Reception to the new LGBTQ curriculum has been overwhelmingly positive, Lawlis said, and she's working to expand the programs across the College of Medicine.
"When you look at medical schools across the country, the amount of hours spent on LGBTQ education is very low. And when you look at the population, it's about 10% of the population — so it's basically like we're ignoring 10% of the population," she said.
"We wanted people to feel more comfortable seeing these patients, be able to navigate things a little bit better, and help them find the right resources. When you talk to (LGBTQ) people who have had bad experiences with healthcare providers, it's really horrifying. We really wanted the next generation to be better prepared."