Coronavirus Live Updates: Senate Set to Vote on $2 Trillion in Aid for a Nation on Edge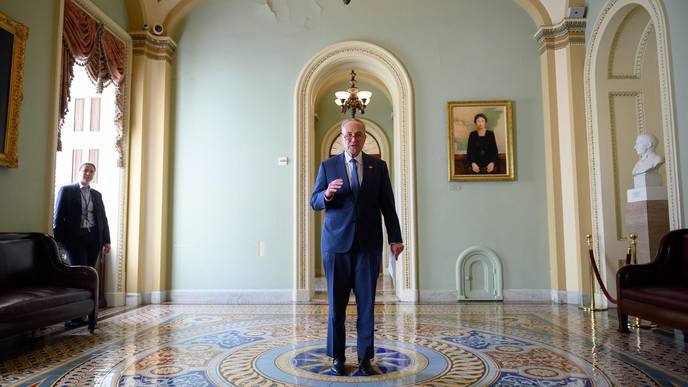 03/25/2020
Photo: Erin Scott
Senator Mitch McConnell called the measure "a wartime level of investment into our nation" as the number of cases reached nearly 60,000 in the U.S.
The $2 trillion relief package is the biggest in American history.
The Senate on Wednesday moved toward a vote on a sweeping bipartisan deal to deliver $2 trillion in government relief to a nation increasingly under lockdown, watching nervously as the twin threats of disease and economic ruin grow more dire.
Reached after midnight, the rescue deal was the product of a marathon set of negotiations among Senate Republicans, Democrats and the White House that had stalled as Democrats insisted on stronger worker protections and oversight of a $500 billion fund to bail out distressed businesses.
"At last, we have a deal," Senator Mitch McConnell, Republican of Kentucky and the majority leader, said on Wednesday. "In effect, this is a wartime level of investment into our nation."
On a conference call on Wednesday morning, Mr. McConnell told Republican senators that the timing of a vote was unclear, but he hoped the measure could be wrapped up later Wednesday, according to a person on the call who insisted on anonymity to relate the private conversation.
The Democratic-led House is unlikely to take up the package until at least Thursday, when Speaker Nancy Pelosi hopes to approve it by unanimous consent, a practice usually reserved for minor, uncontroversial measures. In this case, it would ensure that House members, who are scattered across the country, do not have to travel back to Washington.
News of the agreement buoyed financial markets in Asia and Europe, and the optimism carried over to Wall Street. The S&P 500 had risen about 2 percent by midday.
The sheer size and scope of the package would have been unthinkable only a couple of weeks ago. Administration officials said they hoped that its effect on a battered economy would be exponentially greater than its $2 trillion cost, generating as much as $4 trillion in economic activity.
"This is not a moment of celebration, but one of necessity," the minority leader, Senator Chuck Schumer, said as he took careful note of the changes his party had secured in the legislation. "To all Americans I say, 'Help is on the way.'"
The legislation, which is expected to be enacted within days, is the biggest economic relief package in modern American history, dwarfing the $700 billion Wall Street bailout in 2008 and the $800 billion stimulus bill passed in 2009. The aim is to deliver critical financial support to businesses forced to shut their doors and relief to American families and hospitals reeling from the rapid spread of the disease and the resulting economic disruption.