Experimental NIH Sudan Virus Vaccine Protects Macaques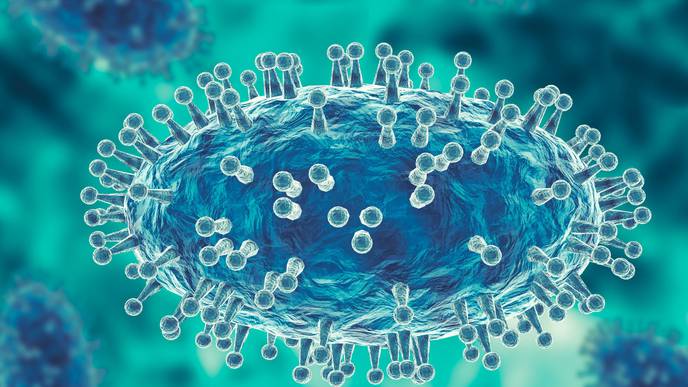 02/03/2023
Media Advisory
Friday, February 3, 2023
Experimental NIH Sudan virus vaccine protects macaques
New inoculation based on Ebola VSV vaccine concept.
WHAT:
A National Institutes of Health research group with extensive experience studying ebolavirus countermeasures has successfully developed a vaccine against Sudan virus (SUDV) based on the licensed Ebola virus (EBOV) vaccine. SUDV, identified in 1976, is one of the four viruses known to cause human Ebolavirus disease. The new vaccine, VSV-SUDV, completely protected cynomolgus macaques against a lethal SUDV challenge. The findings were published in the journal The Lancet Microbe.
SUDV is distinct from and less common than EBOV, but similarly deadly. A recent four-month SUDV outbreak in Uganda that ended on Jan. 11, 2023, caused 142 confirmed cases and 55 deaths. No treatment or vaccine for SUDV disease is licensed, although candidates are in clinical and preclinical trials. One of these candidates is VSV-SUDV, developed and tested by scientists at NIH's National Institute of Allergy and Infectious Diseases in Hamilton, Montana.
The live-attenuated vaccine uses genetically engineered vesicular stomatitis virus (VSV), an animal virus that primarily affects cattle, to express a SUDV protein as a single-dose vaccine. The researchers developed VSV-SUDV using techniques that led to Ervebo, the VSV-EBOV vaccine that the European Medicines Agency and the U.S. Food and Drug Administration approved in 2019 as the first vaccine for the prevention of Ebola virus disease. In the current studies, the investigators replaced the key EBOV protein in Ervebo with the comparable protein from SUDV.
Next, the researchers tested the safety and efficacy of VSV-SUDV in macaques. The study involved 11 animals, each of which had previously received the EBOV vaccine and then rested for nine months. Six macaques were vaccinated with VSV-SUDV and five control animals were vaccinated with VSV-MARV, a vaccine candidate in development for Marburg virus. After 28 days, during which no animals showed adverse effects from the vaccines, they were challenged with a lethal dose of SUDV. None of the animals vaccinated with VSV-SUDV showed any signs of disease, but four of the five control animals developed clinical signs of Sudan virus disease. The surviving control animal, which responded similarly to the vaccinated animals, surprised the scientists, and they plan additional studies of possible cross-protective immune responses.
The fact that four control animals got sick demonstrates that pre-existing immunity to EBOV and VSV-EBOV has limited effect on protection from SUDV. The investigators anticipate that giving people VSV-SUDV in a dosage similar to that of VSV-EBOV (Ervebo) would provide rapid protective immunity to SUDV.
ARTICLE:
A Marzi et al. Species-specific immunogenicity and protective efficacy of a VSV-based Sudan virus vaccine: a challenge study in macaques. The Lancet Microbe DOI: https://doi.org/10.1016/S2666-5247(23)00001-0
WHO:
Andrea Marzi, Ph.D., chief of the Immunobiology and Molecular Virology Unit in NIAID's Laboratory of Virology, is available to discuss this study.
NIAID conducts and supports research—at NIH, throughout the United States, and worldwide—to study the causes of infectious and immune-mediated diseases, and to develop better means of preventing, diagnosing and treating these illnesses. News releases, fact sheets and other NIAID-related materials are available on the NIAID website. 
About the National Institutes of Health (NIH): NIH, the nation's medical research agency, includes 27 Institutes and Centers and is a component of the U.S. Department of Health and Human Services. NIH is the primary federal agency conducting and supporting basic, clinical, and translational medical research, and is investigating the causes, treatments, and cures for both common and rare diseases. For more information about NIH and its programs, visit www.nih.gov.
NIH…Turning Discovery Into Health®
###