Google Gives a Sneak Peek into Its New AI Dermatology Assistant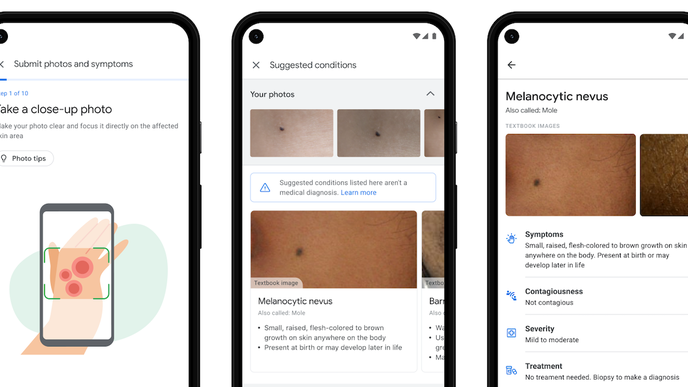 05/20/2021
Photo: Google
Google is looking to use artificial intelligence to help patients find answers to dermatology questions using their personal cameras.
"Skin diseases as a category are an enormous global burden and every day we see millions of people turning to Google to research their skin concern," Dr. Peggy Bui, product manager at Google Health, said. "Worldwide, two billion are affected, and most cases are curable. But half the world's population face a critical shortage of dermatologists where wait times can be months to a year."
This afternoon the tech titan revealed a preview of its AI-powered dermatology assistant that runs on a web-based application. Users are able to upload photos from their cameras onto the platform. The assistant can give feedback to the user on photo quality, telling them if a photo is too blurry or dark, etc.
The tool will prompt users to answer information about their condition, including length of time, skin type, and other symptoms. The questions are optional, allowing users to skip ones they don't know the answers to or don't wish to share.
"Our AI-powered tool helps users to research and identify their skin concerns by addressing existing pain points as patients discover, research, and decide what to do. This innovative technology is the culmination of over 3 years of machine learning research," Bui said.
"It was designed to be incredibly accessible. There is no training required, there is no special equipment or special hardware. You don't even need to download the app. All you need is the ability to take a photograph using a phone or digital camera and have access to the Internet so you can go to the URL on your Internet browser."
Once the user has uploaded the photos and provided follow-up information about their condition Google's AI model will analyze the information and give users a list of possible conditions.
The most relevant matches are displayed near the top of the search. Users are then able to read curated information written by dermatologists on the condition.
They can also look at images that are similar to them from the web and compare them to their own. The information can be saved or shared with a user's doctor.
"If you do feel inclined to help others with the same condition, you can choose to donate your de-identified case to help with the model's accuracy," Bui said.
The goal, according to Bui, is to be as accessible as possible. The content is written at a fifth-grade reading level.
Researchers also looked at training the AI system to account for diversity in age, sex, and race.
"To make sure we're building for everyone, our model accounts for factors like age, sex, race, and skin types, from pale skin that does not tan to brown skin that rarely burns.
"We developed and fine-tuned our model with de-identified data encompassing around 65,000 images and case data of diagnosed skin conditions, millions of curated skin concern images, and thousands of examples of healthy skin, all across different demographics," Biu and Yuan Liu, technical lead at Google Health, wrote in a blog announcing the news.
As for data privacy, researchers said that the users are in the driver's seat.
"We recognize that all of this information is personal, so the tool protects the data, so your information stays private," Bui said. This means that with the exception of the regulatory requirements, you can control whether to save, delete or donate your data for research.
"That data is stored securely. It's encrypted while in transit and in storage. It is in a protected storage location, so that Google doesn't use this information for advertising."
The tech currently has an EU CE mark as a Class 1 medical device. However, is not yet available in the US.
Why It Matters
According to the CDC, skin cancer the most common form of cancer in the United States. In fact, the Skin Cancer Foundation reports that one in five Americans will develop skin cancer by the age of 70.
While many forms of skin cancer are treatable, worldwide many face issues with access to treatment. This initiative, like many in the tech world, is looking to expand access internationally.
"We designed this intentionally to meet the needs of users worldwide, including those in low- and middle-income countries, meaning as long as your phone has at least 3G capabilities you won't notice any differences in speed or quality," Bui said.
The Larger Trend
Google has been using AI to help with all kinds of health challenges. For example, Google's artificial intelligence proved more accurate in identifying breast cancer from mammograms than doctors, according to a study published in Nature in 2020.
Google has also used the technology to research diabetic retinopathy. In a 2018 study published in Ophthalmology, Google AI researchers found that they could improve their AI disease-detecting software by using a small subset of images adjudicated by ophthalmologists that specialize in retinal diseases.
The Silicon Valley company has also used AI to help with EHR navigation issues by creating Care Studio, a clinician-facing search tool that helps organize patient's medical records.