Health Disparity Crisis: Insulin Prices & COVID-19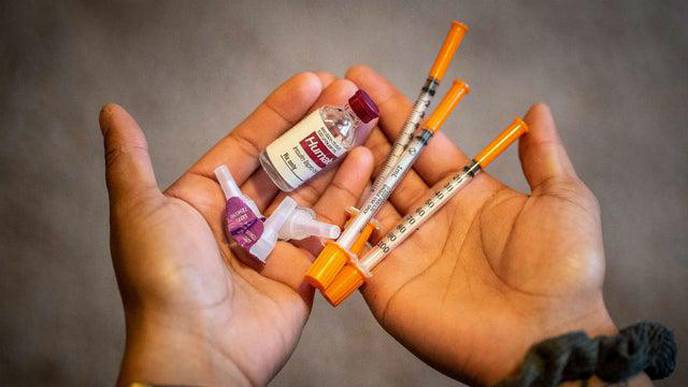 07/02/2020
Photo: Kerem Yucel/AFP via Getty Images
Millions of Americans are facing the fear of continued financial hard times due to the slowing of state reopening plans and the continued fluctuations in unemployment. As U.S. citizens' financial outlooks remain in question the cost of health care becomes highlighted once again and places an even more disproportionate burden on racial and ethnic minorities. With over 48 percent of Americans taking at least 1 prescription medication, and almost 1-in-4 people taking three or more medications per month, the cost of medications may soon become the next public health crisis during the COVID-19 pandemic.
The average cost of medication is around $1200 per year for patients in the U.S., but for patients living with chronic conditions like diabetes, they could be even higher and more difficult to afford. Over 34.2 million Americans are living with diabetes and typically have medical expenses exceeding 2.3 times higher than those who do not have diabetes. The average medical expenditure for a patient diagnosed with diabetes can be on average up to $16,752 per year which is almost 37 percent of an average consumer's annual household expenditures.
Of the diabetes-related medication costs, insulin continues to be top-ranking given that the cost of insulin has increased from $100 to $200 per month in 2016 to over $400 to $500 per month. The cost of the most popular insulins has tripled over the past decade and studies find that over 25 percent of patients who rely on the drug ration, change to over-the-counter insulin, or cut doses due to cost-related concerns. These self-generated doses or medication changes in patients, without the supervision of a health care provider, can often be dangerous and even deadly.
Exorbitant insulin costs have an even larger impact on racial and ethnic minority adults given that the risk of having a diabetes diagnosis is up to 77 percent higher than in white adults. Under managed chronic health conditions, such as diabetes, are common among racial and ethnic minority populations. Add this to the disproportionate number of uninsured citizens, lower wages for minority essential workers, and a higher percent of job losses during COVID-19 you get an even larger health crisis emerging.
So why is insulin so expensive in the United States? Insulin has been around since the 1920s and studies claim that manufacturing costs for just one vial of analog insulin are only $3 to $6 per vial.
Companies that control insulin production for the United States hold more than 90 percent of the world's insulin market. According to the companies, the lack of global competition plus research and development costs are major driving forces behind insulin prices. But does that justify Americans paying higher prices for insulin than anyone else in the world?
Responding to the financial needs of U.S. citizens, manufacturers offer discount cards, copay assistance, patient assistance programs, and specific COVID relief programs. Even Medicare is starting an insulin price-capping pilot program for older adults, and state legislators are signing or introducing bills that cap monthly insulin costs for insured patients. However benevolent these efforts may be, they are still not benefiting racial and ethnic minority populations as a whole and more needs to be done.
Health disparities have been documented for over 120 years in the United States and the rising prices of medications like insulin along with the economic pressures and health inequalities of COVID-19 are creating a national health disparity crisis. The extent of this crisis is not fully documented, and the impact will not be completely understood until further data is collected. Until that time we have the responsibility to speak out to state representatives, the Federal Drug Administration (FDA), the American Diabetes Association, and the Office of Minority Health and Health Equity (OMHHE) to stop rising medication costs and fight for the right for everyone to be healthy.