Healthy Food Systems in Focus at Uppsala Health Summit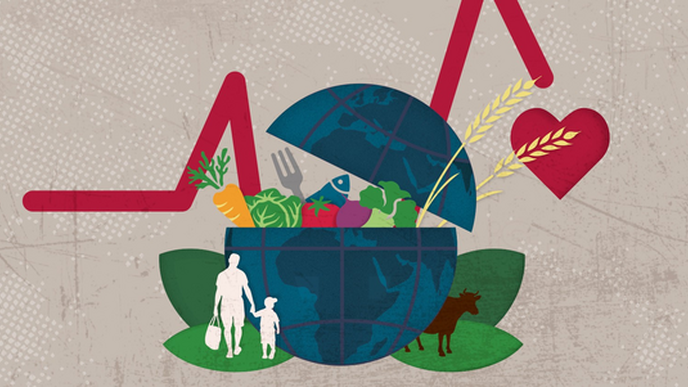 10/21/2022
Photo: Uppsala Health Summit
Food lies at the heart of both health and sustainable development. This year's Uppsala Health Summit takes on the challenges associated with our food systems and how to make them healthier, more inclusive, equitable and sustainable.
Uppsala Health Summit will discuss practical solutions for the continued response to the recommendations from the 2021 UN Food Systems Summit, focusing on the impact of food systems on global public health. The summit's participants will include major international actors from academia, industry, civil society and the public sector with expertise in the linkage between food and health.
The Food and Agriculture Organisation of the United Nations (FAO) estimates that nearly one in three people in the world lack access to healthy food and nearly 800 million people are living in hunger. Furthermore, many foods contain harmful substances and bacteria that can cause chronic illnesses and have a significant impact on public health. COVID-19 and the war in Ukraine have exacerbated the situation and triggered a global food crisis. As always, it is the most marginalised and vulnerable who are affected the most.
"We are getting further and further away from the global goal of guaranteeing everyone food security and improved nutrition, while at the same time we need to make our food systems more robust and resilient to withstand pandemics, natural disasters and civil conflicts. It is essential that our decision-makers prioritise these efforts. We hope that we can help to provide solutions for achieving this transition through our science to policy dialogue," says Professor Karin Artursson, Scientific Director at the National Veterinary Institute, who chairs Uppsala Health Summit's programme committee.
"While food insecurity is worsening globally, Africa is the continent which is most impacted by hunger. Nearly one in three people in Africa are moderately or severely food insecure. Three hundred and fifty million people are facing hunger, and some are at risk of starvation. For sustainable and healthy food systems a range of challenges from production to distribution and consumption must be comprehensively addressed," said Dr Matshidiso Moeti, World Health Organization Regional Director for Africa. "Food is more than what we eat. It is also a crucial cultural, socio-economic and environmental issue."
The meeting will discuss questions relating to the entire food chain from production to consumption. How can we adapt our food production in times of rapid change? Are small-scale producers our best hope for increasing soil productivity and crop diversity in order to reduce hunger? What tools are available to us to promote healthier food consumption and integrate food perspectives in spatial planning? What is required to change behaviours and dietary habits in different age groups? And how can we guarantee that action to promote change is informed by equity and fairness?
The speakers at the summit include Dr Francesco Branca, Director of the Department of Nutrition and Food Safety at the WHO, Marie-Chantal Messier, Global Head of Food and Industry Affairs at Nestlé, Dr Anders Nordström, Ambassador for Global Health at the Swedish Ministry for Foreign Affairs, and Dr Matshidiso Moeti, WHO Regional Director for Africa.
In connection with the summit, a report will be launched that gives a broad and up-to-date overview of the current challenges and the changes needed to make our food systems healthier and more sustainable. The report can be downloaded from Uppsala Health Summit's website: www.uppsalahealthsummit.se
Journalists are welcome to participate in the plenary lectures at Uppsala Health Summit on all days. The discussions from the workshops will be summarised in plenary sessions on 26 October at 09:00 and 15:45.
Uppsala Health Summit is organised by Uppsala University, the Swedish University of Agricultural Sciences, the Medical Products Agency, Örebro University, Region Uppsala, Uppsala Municipality and the National Veterinary Institute.