New High-Tech Startup Developing Smart Contact Lenses for Glaucoma Diagnosis & Management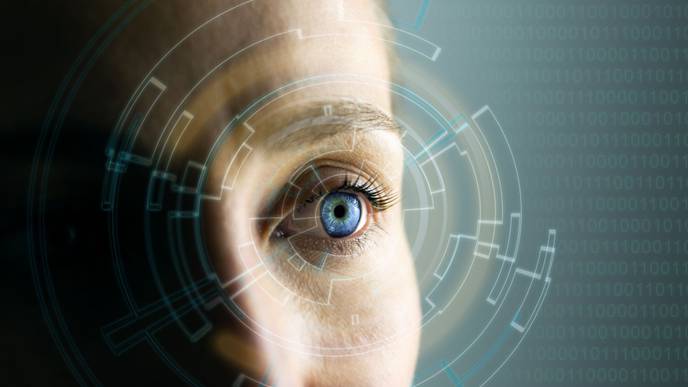 01/20/2023
BVS Sight Inc. was created through a partnership between Boomerang Ventures and Purdue Research Foundation
WEST LAFAYETTE, Ind. – Optometrists, ophthalmologists and their patients will benefit from new, high-tech tools to detect glaucoma at its earliest stages thanks to a startup that will commercialize smart contact lenses developed at Purdue University.
BVS Sight Inc. is the first company created through a partnership between Boomerang Ventures Studio, Purdue Foundry and the Purdue Research Foundation Office of Technology Commercialization. The partnership develops Purdue-related health care startups and health care-related intellectual property yet to reach the market.
Chi Hwan Lee, the Leslie A. Geddes Associate Professor of Biomedical Engineering in Purdue's Weldon School of Biomedical Engineering, led a research team that developed new ocular technology to continuously monitor intraocular pressure (IOP) in a person's eye. IOP is the only known modifiable risk factor for glaucoma, which can steal a person's vision without early warning signs or pain and affects more than 80 million people worldwide, according to the Glaucoma Research Foundation. Studies have suggested that IOP variability is associated with retinal structure damage that occurs in patients with glaucoma and that patients with greater IOP variability may be at higher risk for glaucoma progression.
Lee, who has worked on this technology for six years, specializes in sticktronics, which are stickerlike items that contain electronics or smart technology. His lab develops wearable biomedical devices that can continuously monitor chronic diseases or health conditions in an unobtrusive manner. Lee is BVS Sight's co-founder and chief scientific officer. He has a joint appointment in Purdue's School of Mechanical Engineering and courtesy appointments in the School of Materials Engineering and the Department of Speech, Language, and Hearing Sciences in Purdue's College of Health and Human Sciences. 
Some of the current wearable tonometers — or devices that measure the pressure inside one's eyes — are equipped with an integrated circuit chip, which leads to increased lens thickness and stiffness compared to a typical commercial soft contact lens, in many cases causing discomfort for patients. Lee's version is different.
"To address this unmet need, we developed a unique class of smart soft contact lenses built upon various commercial brands of soft contact lenses for continuous 24-hour IOP monitoring, even during sleep at home," Lee said.
"Our smart soft contact lenses retain the intrinsic lens features of lens power, biocompatibility, softness, transparency, wettability, oxygen transmissibility and overnight wearability. Having all these features at the same time is crucial to the success of translating the smart soft contact lenses into glaucoma care, but these features are lacking in current wearable ocular tonometers."
Dr. Eric Beier, partner and chief medical officer at Boomerang, said Lee and his smart contact lens innovation piqued his and his colleagues' interest for several reasons.
"Our interviews with optometrists and ophthalmologists demonstrated that Lee's technology has the potential to become a new standard of care for diagnosing and managing glaucoma patients," Beier said. "Also, founder fit is an important factor for Boomerang in determining which technologies to commercialize. In working with Lee as we evaluated his technology, we determined that he is a great fit for Boomerang and our venture studio model. 
"We also liked that Lee has been very forward-thinking in developing the technology by also developing a methodology to scale up the manufacturing of his smart contact lenses."
Beier will be a director on BVS Sight's board and continue to support the company through his chief medical officer and management roles at Boomerang Studio.
Beier said BVS Sight must achieve several milestones to bring the smart contact lens technology to market.
"We need to optimize the integrated system for patient and clinician use: smart contact lenses, power source, eyeglasses, sleep mask and software," Beier said. "Developing medical technologies is very complex, and the company will need to work through multiple challenges including clinical studies, regulatory approval, reimbursement and fundraising. These are all areas where Boomerang brings resources and expertise to help our portfolio companies successfully and timely navigate through these complexities."
Beier said since the Purdue and Boomerang relationship began in 2021, Boomerang has reviewed several Purdue technologies.
"We look for technologies that meet our internal selection criteria, address important macro trends we see in health care, and clearly benefit patients and clinicians," Beier said. "We also look for academic co-founders who are excited to work with us and enable us to leverage our business-building expertise and assets."
About Purdue University
Purdue University is a top public research institution developing practical solutions to today's toughest challenges. Ranked in each of the last five years as one of the 10 Most Innovative universities in the United States by U.S. News & World Report, Purdue delivers world-changing research and out-of-this-world discovery. Committed to hands-on and online, real-world learning, Purdue offers a transformative education to all. Committed to affordability and accessibility, Purdue has frozen tuition and most fees at 2012-13 levels, enabling more students than ever to graduate debt-free. See how Purdue never stops in the persistent pursuit of the next giant leap at https://stories.purdue.edu.
About Purdue Research Foundation Office of Technology Commercialization
The Purdue Research Foundation Office of Technology Commercialization operates one of the most comprehensive technology transfer programs among leading research universities in the U.S. Services provided by this office support the economic development initiatives of Purdue University and benefit the university's academic activities through commercializing, licensing and protecting Purdue intellectual property. In fiscal year 2021, the office reported 159 deals finalized with 236 technologies signed, 394 disclosures received and 187 issued U.S. patents. The office is managed by the Purdue Research Foundation, which received the 2019 Innovation and Economic Prosperity Universities Award for Place from the Association of Public and Land-grant Universities. In 2020, IPWatchdog Institute ranked Purdue third nationally in startup creation and in the top 20 for patents. The Purdue Research Foundation is a private, nonprofit foundation created to advance the mission of Purdue University. Contact otcip@prf.org for more information.
About Boomerang
Boomerang Ventures' mission is to transform lives by bringing amazing, connected health care ideas to life. We do that by building a business around a co-founder's idea or technology through an integrated venture studio and venture fund platform which provides systematic de-risking and value-building to accelerate commercialization and significantly improve the probability of a successful outcome for founders, investors and patients.
Writer: Steve Martin, sgmartin@prf.org
Sources: Chi Hwan Lee, lee2270@purdue.edu
Dr. Eric Beier, eric@boomerang.vc