NYU Langone Orthopedic Surgeons Present Latest Clinical Findings & Research at AAOS 2023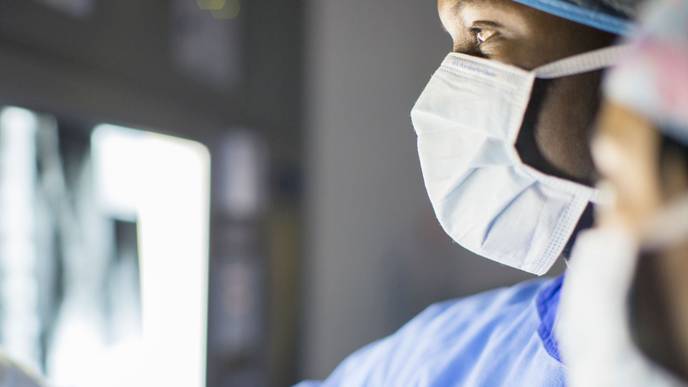 03/08/2023
NYU Langone orthopedic experts are presenting their latest clinical findings and research discoveries at the 2023 American Academy of Orthopaedic Surgeons (AAOS) Annual Meeting, March 7 to 11, in Las Vegas.
Topics being presented include the following:
minimally invasive in-office needle arthroscopy to diagnosis and treat a common cause of chronic ankle pain
improving postoperative pain with intraoperative injections during hip fracture surgery
using an additional dose of dexamethasone to reduce postoperative opioid use for pain after knee replacement
"Our clinical teams continue to innovate and investigate how we can provide our patients with the best possible outcomes. That is evident in the diversity of presentations featured this year," said Joseph D. Zuckerman, MD, the Walter A.L. Thompson Professor of Orthopedic Surgery, chair of the Department of Orthopedic Surgery at NYU Grossman School of Medicine, and former president of AAOS. "We also congratulate Dr. Claudette M. Lajam, our chief safety officer and a leader of our orthopedic health equity initiatives, on completing her service as chair of the AAOS Board of Councilors. She was the first Latina chair and only the second woman to serve in the role."
NYU Langone is ranked No. 4 in the nation for orthopedics by U.S. News and World Report, performing more than 34,000 orthopedic procedures annually by more than 200 orthopedic physician faculty experts.
At this year's meeting, faculty from the Department of Orthopedic Surgery are presenting 77 posters, 31 papers, 32 videos, and 38 symposia, courses, specialty programs, and special sessions. Notable research from this year's conference includes the following.
Video Award: In-Office Needle Arthroscopy for Treatment of Anterior Ankle Impingement
Anterior ankle impingement, generally caused by the buildup of soft scar tissues or bone spurs that have formed in the ankle joint, can limit range of motion and be a common cause of chronic ankle pain. While the gold standard procedure to treat the condition has historically been ankle arthroscopy surgery, advances with in-office needle arthroscopy have allowed for wide awake arthroscopic treatment without the need for either an operating room or an anesthesiologist.
"Using the latest nanotechnology available has vastly improved patient experience and outcomes in corrective surgery for anterior ankle impingement," said John G. Kennedy, MD, professor in the Department of Orthopedic Surgery and chief of the Division of Foot and Ankle Surgery.
Case video of an in-office needle arthroscopy for treatment of anterior ankle impingement performed by Dr. Kennedy is receiving a 2023 American Academy of Orthopaedic Surgeons' Orthopaedic Video Theater Plus Award. The case can be viewed throughout the meeting at the Orthopaedic Video Theater.
Specialty Program: The Long-Term Effect of Intraoperative Hip Fracture Injections on Function and Patient-Reported Outcomes—A Randomized Controlled Trial
Hip fractures are unpredictable and emergent injuries that demand immediate care. While adequate postoperative pain control promotes a patient's ability to successfully complete physical therapy after a hip fracture and return to normal activity, administered perioperative narcotic pain medications have also demonstrated negative side effects such as delirium and addiction that impact outcomes. To investigate ways to avoid those side effects, researchers at NYU Langone performed a single-blind randomized controlled trial to evaluate outcomes when intraoperative local anesthetic injections were administered.
"We wanted to understand if using a cocktail of local anesthetics and analgesics during surgery may reduce postoperative pain and curb opioid use," said Philipp Leucht, MD, PhD, the Raj-Sobti-Menon Associate Professor of Orthopedic Surgery and director of research in the Department of Orthopedic Surgery. "In addition to the pain management benefit, we found this treatment resulted in improved rehabilitation results among some patients."
The study randomized 186 patients with hip fracture across treatment and control groups. The treatment group received an injection of bupivacaine, morphine sulfate, and ketorolac before wound closure. The control group received no injection. Patients in the treatment group reported significantly less pain and less difficulty with sleep, as well as less anxiety, fear, feelings of helplessness, nausea, and drowsiness than the control group immediately following the procedure and on six-week follow-up. Participants in the treatment group also reported greater ambulation distance during rehabilitation.
Paper Presentation: Second Dose of Dexamethasone Reduces Postoperative Opioid Consumption, Pain, and Length of Stay in Primary Total Knee Arthroplasty
Although total joint arthroplasty is one of the most effective treatments for end-stage osteoarthritis, pain control within the immediate postoperative period and the first few weeks after surgery can be difficult to manage. Surgeons at NYU Langone investigated whether a second dose of the commonly used perioperative analgesic dexamethasone may mitigate pain enough to decrease opioid use while also reducing length of stay. A retrospective review of 2,256 primary elective total hip arthroplasty and total knee arthroplasty patients were included in the study.
"We have designed an opioid-sparing protocol at NYU Langone that aims to decrease narcotic use for total joint arthroplasty patients. Combined with better soft tissue techniques and minimally invasive surgery, patients are now able to recover more quickly with lower likelihood of developing opioid tolerance or abuse," said Joshua C. Rozell, MD, director of patient-reported outcomes research for the department and arthroplasty site director for NYU Langone Hospital—Brooklyn. "Dexamethasone was shown to mitigate pain enough to reduce opioid consumption."
Knee arthroplasty patients showed a significantly lower opioid consumption up to 72 hours following surgery. Dexamethasone was administered before incision and then again after surgery to both patient groups. Additionally, the length of stay was reduced among total knee arthroplasty patients, and patients were able to return home to a more comfortable healing environment sooner, without any additional adverse events.
Media Inquiries
Colin DeVries
Phone: 212-404-3588
colin.devries@nyulangone.org