Pregnancy Poses Challenges for People Recovering From Substance Use Disorder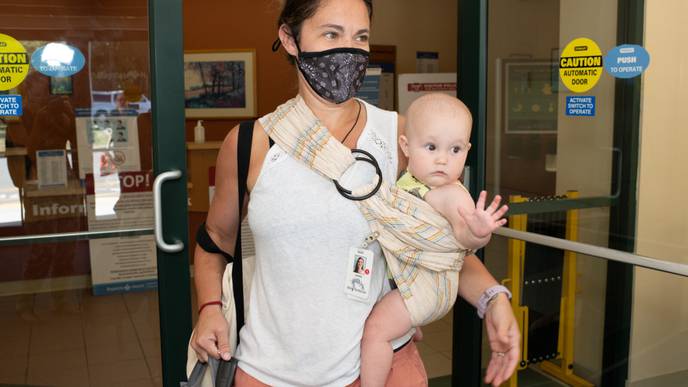 09/15/2020
Photo: Alice Proujansky for STAT 
Doula Carrie Diehl lives in a house set between a gentle stream and a busy road with her partner, their 8-month-old daughter, two teenage stepdaughters, a leggy Labrador, and a short, elderly dog. She loves fixing cars and caring for plants, and she is 5 years sober from a substance use disorder.
Diehl's work as a doula includes what you might expect: talking pregnant people through aches and pains, providing labor support, helping parents learn how to breastfeed. But as a peer mentor doula for mothers in recovery, she also supports clients when they relapse, models sobriety coping skills, and celebrates recovery anniversaries. 
Most of Diehl's work involves personal contact, often holding a newborn while a single mom takes a precious half-hour to herself. But Covid-19 has complicated all of her work, from offering transportation to the physical closeness of postpartum doula care. She is part of an essential support network for mothers in recovery, one that is increasingly fraying in pandemic times. 
The pandemic, too, has introduced new challenges for people with a history of substance use disorder. Stress, economic distress, and isolation are significant risk factors for those at risk of relapse. Nationally, overdoses are estimated to have risen 18% during the pandemic, and these incidents are more dangerous now that people are isolated, with no one nearby to administer naloxone or call an ambulance.
Diehl works with clients of Baystate Franklin Medical Center's Moms Do Care EMPOWER program, which serves parents of young children and pregnant and postpartum people who have a history of heavy heroin use, opioid misuse, or overdose. She's had to shift what her work looks like since the virus started to spread. She's making more phone calls, sending more texts, and taking occasional walks with clients.
But there is no substitute for the intimacy of personal contact, which also allows her to assess if someone appears to have relapsed and needs additional services. Diehl's own experience gives her a keen sense if someone is on the edge and needs her nonjudgmental support.
"I'm trying to find a way," she said, "Because it's not like I can watch the baby over the phone. I like to say I like to smell people: to feel who they are, and I'm pretty sure they do as well. So we can actually decide, do we like each other? Is she going to try? Is mom going to trust me enough through her birth?"
Before the pandemic, Diehl would sit with postpartum women while their babies played together, or breastfeed her daughter while they talked. She could build a relationship as they talked about everything from recovery and sleep to diaper changes and bonding with a new baby. 
"Most people think about all the bad stuff. But it's really hard to also lose the good stuff," Diehl said. 
Pregnancy is often a hopeful time for people with substance use disorder, but the sleeplessness, anxiety, and intensity of the postpartum period bring a high risk of relapse.
Many new parents struggle in the months after giving birth, and those early in their recovery, in particular, need resources. But closures and telehealth limit access, and essential connections become tenuous. "When mental health symptoms increase, the risk for relapse and death will increase," said Baystate Franklin Medical Center midwife Mary Paterno, who works with the program's clients.
"The potential for catastrophic outcomes is much bigger," Paterno added. "If somebody's recovery is in jeopardy because of all of this, they have a lot to lose: among other things, their child. They have so much to lose, including the loss of parental rights."
Paterno estimated that her team sees 40 moms each year with substance use disorders. It's a small number, but a large proportion — those individuals account for roughly 10% of their patients. More than half of her patients are also on Medicaid. 
The effect of the pandemic on the work of midwives and doulas — particularly those who work with patients with a history of substance use disorders — is undeniable. Paterno and her team, like health workers across the country, faced shortages of personal protective gear. Paterno found herself having to balance the safety demands of public health with the individual needs of her patients. These goals were often at odds, especially for a midwife. 
The pandemic will continue to impact that work in the months to come. Diehl said she's particularly worried about the effect winter — or more widespread lockdowns — will have on her clients. 
With 1.2 cases per 100,000 people in the past week, the county where she works is comparatively safe right now. But it is clear that the pandemic's toll is deadly and far-reaching in more ways than one. "It isn't just a respiratory illness," Diehl said. "It's a social illness."