Researchers Report Value of RNA Expression Profiling & Machine Learning for Assessing Mutation Status in Chronic Lymphocytic Leukemia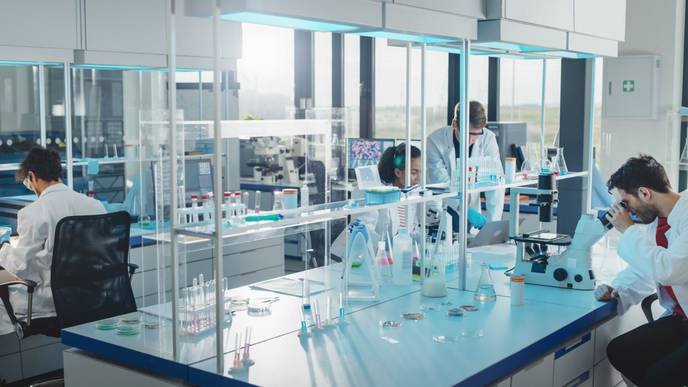 01/28/2023
Investigators from Hackensack Meridian John Theurer Cancer Center (JTCC), a part of the NCI-designated Lombardi Comprehensive Cancer Center at Georgetown University and Genetic Testing Cooperative Inc. (GTC), published a new study showing that RNA sequencing performed using next-generation sequencing plus machine learning was accurate for distinguishing between mutated and non mutated chronic lymphocytic leukemia (CLL). If validated in larger studies, this approach could represent a less extensive and more efficient way to look for mutations in CLL, the presence or absence of which predicts how well a patient will respond to treatment. The study was published in the Journal of Medical Artificial Intelligence
The scientists used next-generation sequencing to determine the mutation status of 120 CLL samples. The RNA of these samples was sequenced using a targeted panel of 1,408 genes. Machine learning was used to predict the mutation status of the IgHV protein, a prognostic indicator of the course of CLL and its response to therapy. People with CLL who lack IgHV mutations have a poorer response to chemoimmunotherapy, shorter time to recurrence, and worse overall survival than those with mutated IgHV.
The findings showed that RNA expression profiling and machine learning was 86% sensitive and 93% specific for distinguishing between mutated and unmutated IgHV. "These data demonstrate that RNA expression combined with a machine learning algorithm can reliably predict IgHV mutation status. This approach has several advantages over conventional genomic sequencing methods and should be confirmed in larger studies," said senior author Maher Albitar, MD, CEO of GTC, which partners with Hackensack Meridian Health to run a genomic testing laboratory in Hackensack that offers next-generation sequencing.
"In one test, Next Gen Sequencing (NGS) has the advantage to provide all the information necessary to stratify patients with CLL, while it required several tests previously including FISH, flow cytometry and targeted sequencing in the past," explained co-author Andre Goy, MD, MS, chairman and executive director of JTCC. "This is critical as the paradigm has completely shifted in CLL away from chemotherapy in patients with high-risk molecular features, including evaluation of the mutational status of CLL patients as shown in this study. This helps practitioners give the best option to each patient, with typically fewer side effects and more durable responses."
"This study demonstrates the impact of our collaboration with Genetic Testing Cooperative Inc. and our participation in the Georgetown Lombardi Comprehensive Cancer Center Consortium, placing John Theurer Cancer Center at the cutting edge of information technology and medicine," says Andrew Pecora, MD, co-author and co-chief of the Division of Skin Cancer and Sarcoma at JTCC.