Researchers to Study Long COVID as Part of National Collaborative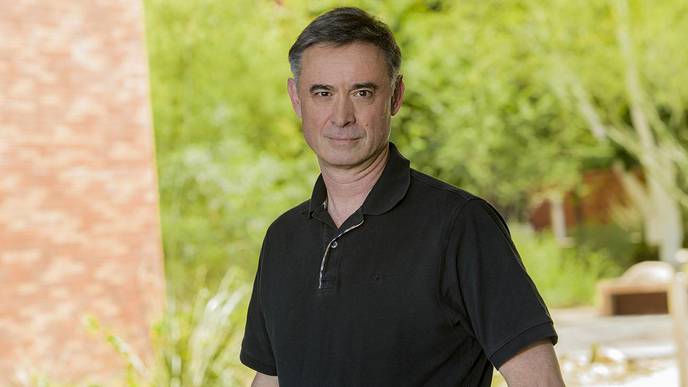 11/22/2021
Photo: Nikolich-Zugich, MD, PhD
Researchers at the University of Arizona Health Sciences will lead a statewide effort to study the long-term effects of COVID-19 with a projected $9.2 million in first-year funding from the National Institutes of Health (NIH). In the subsequent years of this four-year award, additional funding based upon enrollment is anticipated.
UArizona Health Sciences is one of more than 30 research teams across the country participating in the NIH Researching COVID to Enhance Recovery (RECOVER) initiative, which seeks to understand, treat and prevent post-acute sequelae of SARS-CoV-2 infection (PASC). Long COVID is a form of PASC and refers to symptoms that persist for weeks or months after the acute infection.
"Up to 30% of the people who experienced coronavirus infections may have a hard time recovering, and many of them have not fully recovered up to 90 days later," said Janko Nikolich-Žugich, MD, Ph.D., professor and chair of the Department of Immunobiology at the UArizona College of Medicine – Tucson and member of the BIO5 Institute. "What we're trying to do, along with a consortium of sites across the country, is to figure out why these people are getting sick and how to help them."
Recovery from COVID-19 varies from person to person. Many people make a full recovery, but others continue to experience symptoms related to the infection or develop new symptoms over time. Symptoms among persons who have been infected with SARS-CoV-2 range from mild to incapacitating, may persist after recovery from the acute phase of the disease, and can adversely affect overall quality of life. PASC symptoms may involve multiple organs and systems and can include pain, headaches, fatigue, shortness of breath, "brain fog," chronic cough, sleep disturbances, anxiety, depression, and fever.
"We would like to understand the basis of all this – why PASC is manifesting in different ways," Dr. Nikolich-Žugich said.
Dr. Nikolich-Žugich is leading the Arizona Post-SARS-CoV-2 Cohort Consortium (AZP3C), a six-institution partnership supported by the RECOVER Clinical Science Core at New York University Langone Health. Arizona researchers will build upon successful partnerships, statewide networks and research infrastructures such as the CoVHORT, AZ CEAL, and AZ HEROES studies underway at UArizona Health Sciences, as well as the university's antibody testing initiative.
"This consortium is a testament to the leadership, network capabilities, breadth of knowledge, and caliber of researchers at the University of Arizona Health Sciences," said University of Arizona President Robert C. Robbins, MD. "One of the biggest challenges about the ongoing global health pandemic is the fact that there is still so much we do not know about the disease and the long-term effects. This funding makes it possible for us to study large segments of the population affected by prolonged symptoms of COVID-19, which will hopefully lead to increasing our understanding of conditions that lead to long COVID and, ultimately, help us find solutions."
The state-wide research team includes scientists and clinicians who specialize in a multitude of areas, including infectious disease, immunity, inflammation, sleep, mental health, gastroenterology, pulmonary and critical care medicine, neurology, cardiovascular diseases, and virology. Each partner's location brings unique value to the research team. In addition to UArizona Health Sciences, other members of the Arizona consortium are:
Arizona State University, led by Megan Jehn, Ph.D., and Sabrina Oesterle, Ph.D., contribute public health and epidemiology expertise and will oversee recruitment and outreach efforts in Maricopa County.
Northern Arizona University, led by Samantha Sabo, Ph.D., and Paul Keim, Ph.D., will focus on recruitment of Native American populations and community outreach to Northern Arizona.
Banner Health and Banner Research Institute, led by Eric Reiman, MD, contribute expertise in psychiatry and cognitive science.
Translational Genomics Institute, led by Matt Huentelman, Ph.D., and John Altin, Ph.D., will recruitment participants from the MindCrowd cohort.
Mayo Scottsdale, led by Chyke Doubeni, MD, will focus on recruitment and outreach to African American populations in Maricopa County.
"COVID-19 has disproportionately impacted communities of color and vulnerable populations, including those in southern Arizona. It's critical that we study and research COVID-19 and its long-term impacts to gain insight on prolonged symptoms and help people toward recovery. I'm proud to support this federal funding that will help determine the cause of these lingering symptoms and uncover much needed answers for the millions of people continuing to struggle from this disease," Rep. Raúl M. Grijalva said.
The AZP3C team will recruit individuals who have experienced or are in the acute phase of COVID-19, including adults from vulnerable, older, and underserved populations and representing diverse races and ethnicities. Minority races and ethnicities are disproportionately affected by COVID-19, and the team will leverage another state-wide study, the NIH Community Engagement Alliance (CEAL) Against COVID-19 Disparities, to engage and enroll such populations into the RECOVER study.
All participants will undergo clinical evaluations, answer questionnaires, take detailed exams and undergo diagnostic procedures. The data and samples collected will become part of the larger RECOVER database of tens of thousands of individuals nationwide.
"Local sites will be recruiting people and doing the evaluations," Dr. Nikolich-Žugich said. "But the central, national aspect of this study is critical and important because of the power of numbers."
According to the CDC COVID Data Tracker, as of November 2021, more than 46 million individuals in the U.S. have been infected with the SARS-CoV-2 virus.
"This study of post-acute sequelae of SARS-CoV-2, which is aimed at understanding the reasons for persistence of symptoms and organ involvement, assumes tremendous importance for us to devise new treatments and cures to address the long-term consequences of this pandemic," said Sairam Parthasarathy, MD, one of the project's multiple principal investigators (mPI).
In addition to Dr. Parthasarathy, who is a professor of medicine and chief of the Division of Pulmonary, Allergy, Critical Care and Sleep Medicine at the UArizona College of Medicine – Tucson and a BIO5 Institute member, the multiple PIs include Marilyn Glassberg, MD, chief of the UArizona College of Medicine – Phoenix Division of Pulmonary Medicine, Critical Care and Sleep Medicine, and Eric Reiman, MD, CEO of the Banner Health Research Institute.
The multi-disciplinary team of investigators includes: Kacey Ernst, Ph.D., MPH, and Kristen Pogreba-Brown, Ph.D., MPH, UArizona Mel and Enid Zuckerman College of Public Health; Lee Ryan, Ph.D., UArizona College of Science, Kenneth Knox, MD, College of Medicine – Phoenix; David T. Harris, Ph.D., Karen Lutrick, Ph.D., and Jarrod Mosier, MD, College of Medicine – Tucson; Nirav Merchant, MS, UArizona Data Science Institute, Vignesh Subbian, Ph.D., UArizona College of Engineering; and many other physicians and scientists from the participating institutions. Drs. Pogreba-Brown, Harris, Merchant, and Subbian also are members of the university's BIO5 Institute.