The Latest Discoveries in Rheumatology Research at the Arthritis National Research Foundation 2023 Research Scholar Symposium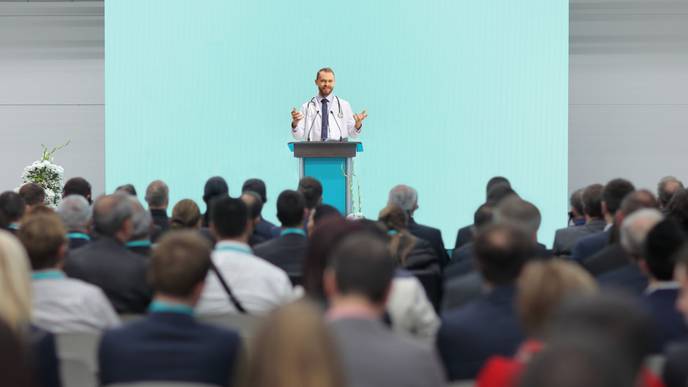 03/05/2023
This day-long Symposium features current scholars poised to share their discoveries in arthritis and other autoimmune diseases alongside industry expert presentations.
BOSTON, Feb. 23, 2023 /PRNewswire/ -- The Arthritis National Research Foundation (ANRF) 2023 Research Scholar Symposiumon March 11th, 8 AM - 5 PM at the Hyatt Regency Boston, offers attendees exposure to cutting-edge research they cannot find anywhere else.
This year's Symposium will highlight:
Innovative research on Osteoarthritis, Lupus, Psoriatic Arthritis, Rheumatoid Arthritis, Scleroderma, and more.

Special sessions featuring Leonard Dragone, MD, Ph.D., Chief Medical Officer at Sonoma Biotherapeutics, Michael Vincent, MD, Ph.D., SVP and CSO of the Inflammation & Immunology Research Unit at Pfizer Inc., and Soumya Chakravarty, MD, Ph.D., FACP, FACR, Senior Director, Strategic Lead Rheumatology Therapeutic Area at Janssen Pharmaceuticals.

A Keynote address from Vijay K. Kuchroo, DVM, Ph.D., Samuel L. Wasserstrom Professor of Neurology at Harvard Medical School, Senior Scientist at Brigham and Women's Hospital, and Co-Director of the Center for Infection and Immunity at the Brigham Research Institutes, Boston.
For current ANRF Scholar Ruth Napier, Ph.D., the Symposium offers a chance to bridge data to outcomes, helping attendees understand how vital research is to the 58.5 million Americans with Arthritis hoping for a cure. "The ANRF Symposium gives me the chance to explain how my data in the field of Ankylosing Spondylitis (AS) applies in the clinic and why patients and other researchers should get excited about the future of arthritis research. We each play an important part in changing the future of AS care, and I take mine pretty seriously."
"We are incredibly excited about this year's Symposium," says ANRF CEO Emily Boyd Stormoen. "This event provides an engagement opportunity that truly helps drive the continued innovation and collaboration needed to help people impacted by all forms of arthritis."
Join the leading experts in rheumatology on March 11 in Boston by registering athttps://curearthritis.org/2023rss/.
About Arthritis National Research Foundation
Since 1970, the ANRF has funded arthritis research to understand the causes, prevention, and development of new treatments for osteoarthritis, rheumatoid arthritis, lupus, juvenile arthritis, and other autoimmune diseases. Since then, more than $22M in grant funding has been awarded to more than 180 researchers providing initial research funding to scientists who have new ideas to cure arthritis and related autoimmune diseases. Visit CureArthritis.org for more information.
Contact:
Jenny Dunne
917-930-9957
jdunne@curearthritis.org
View original content:https://www.prnewswire.com/news-releases/the-latest-discoveries-in-rheumatology-research-at-the-arthritis-national-research-foundation-2023-research-scholar-symposium-301754492.html
SOURCE Arthritis National Research Foundation