UC Research Examines COVID-19 Vaccine Hesitancy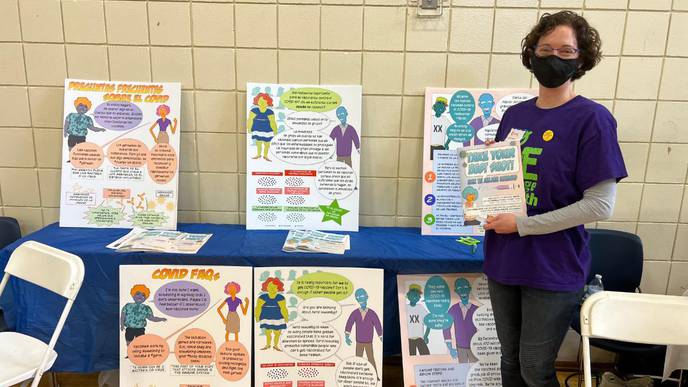 08/26/2022
Photo/Susan Gertz
One of the major roadblocks in the fight against the spread of COVID-19 in the early days of the pandemic was people refusing to get vaccinated against the virus. New research at the University of Cincinnati examines that vaccine hesitancy and provides key insights into the behaviors and perceptions of the U.S. population during a critical time of the COVID-19 pandemic, just as vaccines were becoming more available.
The research was published in the International Journal of Environmental Research and Public Health.
Jack Kues, PhD, professor emeritus in the Department of Family and Community Medicine at the UC College of Medicine and lead investigator of the study, says the precursor to the vaccine hesitancy research was an effort examining people's behaviors and emotions around COVID-19 before vaccines were available.
"We did a massive survey with several thousand responses from all over the country," says Kues. "We asked one question about whether they would get a vaccine if it became available. We were surprised to find that large numbers of people, even though they believed that the vaccine was going to be developed within months, weren't going to get it."
Kues says his research team was particularly surprised to find that there were highly educated people, including doctors, nurses and others in health care, who said there was no way they were going to get the vaccine.
"We didn't know how to respond to that because we were thinking the people who were not going to get the vaccine were not as well-educated, didn't understand science and were more likely to subscribe to many of the conspiracy theories about the vaccine," he says.
Once the COVID-19 vaccines were developed and made available to the public, Kues says they pivoted to examining vaccine hesitancy. Almost 1,400 surveys, exploring attitudes toward receiving the vaccine and identifying trusted information sources, were completed in the spring 2021. More than 83% of survey respondents said they were at least partially vaccinated. Of 246 unvaccinated respondents, 31.3% were somewhat or extremely likely to get vaccinated when available. Their two most common concerns were vaccine effectiveness (41.1%) and safety (40.2%).
Kues says his team had helped develop strong education materials for people of all backgrounds and cultures and would set up informational tables at health fairs. This was done as part of a grant from the Association of American Medical Colleges and aproject directed by another UC researcher, Melinda Butsch Kovacic, PhD. In many cases, people completely avoided coming to the table and picking up any of the printed materials.
"We think one reason for avoiding our conversations is that people are just tired of COVID, period," Kues says. "Another is the way the COVID and vaccination issue has gotten caught up in other political issues. It's similar to talking to somebody about stopping smoking. They believe that you're going to attack or belittle them. They believe that you're going to tell them that they're careless or thoughtless. In that regard, they're not entirely wrong. We often believe that we are right, and they just need to be educated."
Kues says that as a result of that input they have revised their approach to COVID-19 education.
"Health fairs are all about health," Kues says. "If you're advertising that you're now going to talk about something they don't want to talk about, they won't come to you. But if we put it into a larger health context that is about diabetes, nutrition, high blood pressure, dealing with other health issues, they are more likely to engage in a conversation. In that context, COVID can be discussed as a health risk."
Kues says one of the complicating factors of COVID-19 was the mixed messages in the media, from politicians and even the Centers for Disease Control and Prevention. One of the things they examined in this study was how complex the problem was and how studies don't always produce consistent data across time and for different parts of the country. He noted that we are still in a very fluid situation with COVID-19.
"It's important to continue doing these discrete studies if you want to understand the phenomenon that is COVID-19. You've got to step back and look at it as a complex puzzle. You've got to examine all the things that were moving over time in order to understand the variables that cause these short-term and long-term changes," Kues says.
"Ultimately, if you're going to convince people to take the vaccine or change their behavior, you've got to have a better understanding of the factors that contribute to their beliefs and understanding, so that you can have a meaningful conversation that addresses their concerns."