What Happens when the COVID-19 Emergency Declaration Ends? Brace for Big Changes to Your Health Coverage & Medical Costs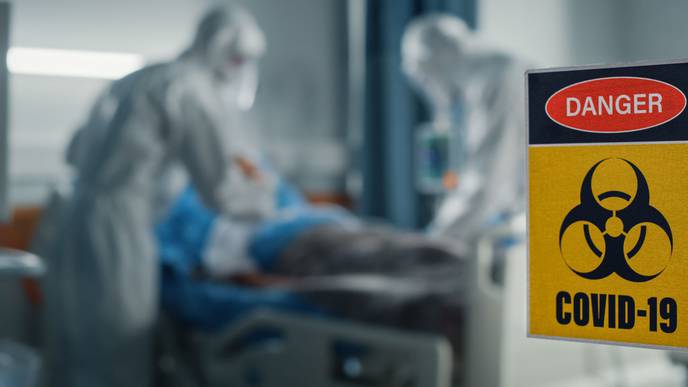 02/03/2023
The emergency declarations, first enacted in early 2020 as the pandemic took hold, triggered a range of government responses meant to ease costs for both individual consumers and hospitals.
The declarations "gave the federal government flexibility to waive or modify certain requirements in a range of areas, including in the Medicare, Medicaid, and CHIP [Children's Health Insurance Program] programs, and in private health insurance," wrote researchers at KFF, a nonpartisan healthcare think tank, in a brief outlining the impacts of the end of the declarations. 
Some of the legislation that Congress enacted in response to the declarations — which included the Families First Coronavirus Response Act; the Coronavirus Aid, Relief and Economic Security (CARES) Act; and the American Rescue Plan Act — required health insurers to cover the costs of COVID tests, so consumers wouldn't have any out-of-pocket costs to get tested. (Many health insurers also voluntarily covered the cost of COVID-19 treatment at the beginning of the pandemic, but stopped doing so by late 2020.)
The end of the emergency declarations also means that the government will no longer directly manage the development of vaccines and treatments, a move that is expected to eventually lead to higher vaccine prices, the Associated Press reported.
What does all of this mean for Americans' wallets?
More people will probably have to pay for COVID tests, but how much will be up to the insurers
More people will likely need to pay for COVID tests that would otherwise have been free. "That's where you actually will start to see changes," said Cynthia Cox, a vice president at KFF. Currently, people pay for a COVID test in rare situations, she said — for example, if they are required to take a weekly test for work. 
The COVID-related national emergency restricted health insurers' ability to charge for the tests, but once it ends, it will be up to the insurers to set the fees, and insurers may also charge patients for related doctor visits.
Insurers could introduce new restrictions, such as asking people to find an in-network provider, increasing the copay, restricting how many COVID tests they cover during a certain period of time, or even discontinuing the free take-home test kits that some health-insurance providers cover monthly. 
Currently, most Medicare and private health insurance customers can receive up to eight free take-home test kits per month, Cox added.
Millions of people could lose Medicaid coverage 
Up to 18 million people could lose Medicaid coverage when the COVID-19 national emergency ends, according to a recent analysis by the Robert Wood Johnson Foundation, a Princeton, N.J.-based nonprofit focused on public health. While many people currently enrolled in Medicaid will transition to other coverage options, an estimated 3.8 million people will become completely uninsured. The rates of uninsured people will rise by 20% in 19 states, the foundation added.
"The Families First Coronavirus Response Act's continuous coverage requirement prevents state Medicaid agencies from disenrolling people during the COVID-19 public health emergency. However, when the declaration of the emergency expires — currently scheduled for April 2023 — states will resume normal eligibility determinations," the organization said in December. "This could result in millions losing access to affordable health coverage through Medicaid."
"State Medicaid officials and policymakers must continue to ensure that individuals currently enrolled in Medicaid are aware of the approaching end of the public health emergency, and that they have a plan to maintain or find new health coverage through their employer, the federal healthcare Marketplace, or Medicaid," it added.
Possible new cost sharing for COVID treatments
For people with private insurance, the end of the public-health emergency won't change much of what they are already paying for COVID-related treatments and medicine. But under Medicare, there could be new cost sharing for COVID treatments.
There could also be a transition period where some providers will charge for the COVID-related medications, while others don't, Cox said, because the federal government purchased some medications for COVID-related treatment during the pandemic, including Pfizer's oral antiviral drug Paxlovid. The government bought Paxlovid for a reduced price, at $530 per treatment course, but it's expected to cost much more on the open market. 
See also:What the end of the government's COVID emergency could cost you
If the medicine came from the federal government, it would still be free, but consumers could incur costs for hospitalization and other services. If the medicine were bought from a private provider, the patient would need to pay for it. 
People covered by Medicare Part D may see their treatment costs rise, because the insurance program doesn't cover drugs that aren't fully approved by the Food and Drug Administration. Currently, Paxlovid is available under an emergency-use authorization. Emergency-use authorizations allow the FDA to release treatments to the public more quickly, typically when there is a declared public-health emergency, like a pandemic or bioterrorism attack.
Easy access to telehealth services may end for some people, forcing them to incur more costs to see a doctor
Expanded coverage of telehealth during the public-health emergency allowed millions of people to access healthcare services remotely. While most of this expanded coverage was extended through the end of 2024, or in some cases made permanent, the end of the public-health emergency could impact whether out-of-state services remain available to some patients via telehealth. 
But a relatively small number of patients will be affected, such as people who need to see a specialist in another state, Cox said.
Immunocompromised people, as well as low-income people with private insurance, will be hit hard 
The costs of COVID tests and treatments add up quickly, and could be difficult to cover for people with lower incomes who have private health insurance, Cox said. 
The same goes for people who are particularly vulnerable to severe COVID-19 outcomes, she added. Relaxed COVID restrictions potentially present the most risk to people with underlying health conditions, as well as those who have weakened immune systems due to medical conditions or immunosuppressive medications. More than most, they must rely on their friends and family to frequently test for COVID-19.
"This is one of those last layers of protection that's being lifted for them," Cox said. 
As long as federally purchased vaccines last, they will be free to people without insurance
One thing that will not immediately change with the end of the public-health emergency: Uninsured adults will still have access to free COVID-19 vaccines and boosters. The federal government already paid for all of the vaccines and booster doses that are currently being administered, and providers have agreed not to charge for those vaccines.
However, once those run out, manufacturers will start charging for those vaccines. For instance, Pfizer announced that the commercial price of its COVID-19 vaccines will likely be $110 to $130 per dose, which is about three times what the federal government has paid. The shots will likely become commercially available in the first quarter of next year.
Uninsured children will still be able to access vaccines through the Vaccines for Children (VFC) program after the federally purchased supply runs out, though providers may charge an administration fee, KFF says.
COVID vaccines and boosters "will continue to be available for free to virtually all those with public and private insurance even when there is no longer any federally-purchased supply remaining or [public-health emergency] protections in place," according to KFF. "Most people with private insurance will continue to pay nothing out-of-pocket for COVID-19 vaccines/boosters, but there will be exceptions (e.g. in the case of out-of-network care and grandfathered plans) when the federally purchased vaccine supply is depleted."
When the government-paid vaccines will run out is hard to predict, Cox said, but it's not going to be anytime soon — at least not before May 11, when the emergency declaration ends.