First FDA-Approved RSV Vaccines Expected Within Months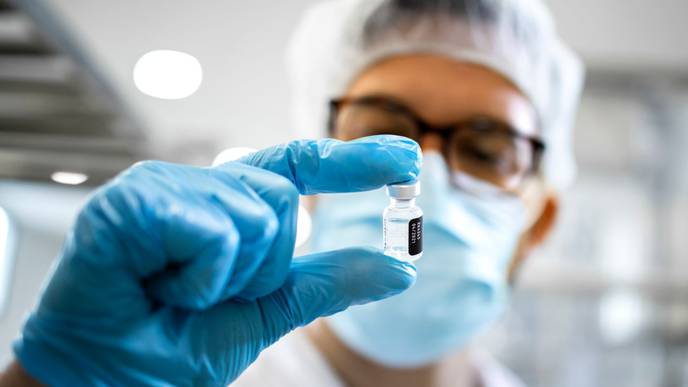 02/05/2023
This winter has been a doozy for the respiratory syncytial virus (RSV). The season hit early, with more than 126,000 cases detected between October and November 2022, according to Contemporary Pediatrics.
"RSV season is horrible," says Janet Englund, MD, a pediatrician at Seattle Children's Hospital and a professor of pediatrics at the University of Washington School of Medicine. "We are very, very busy, with children lined up in the emergency department waiting for beds in the hospital, which are often already occupied. We also have kids in the emergency department who are too sick to be moved because they need an intensive care unit or acute care, but there's no place for them to go."
There's currently no vaccine for RSV to stem the tide of cases. But after decades of research, the first approval of a vaccine appears to be imminent, and it's expected that multiple vaccines will be available before the start of the next RSV season, to be rolled out first for older adults, and potentially later a shot to protect infants and babies as well.
In total, more than 30 preventive options for RSV are on the horizon, and 9 of those are in advanced trials, according to an article in the January 2023 issue of the Lancet.
Approvals for RSV Vaccines for Adults Expected First
This May, the U.S. Food and Drug Administration (FDA) is expected to announce its decision about two RSV vaccines for seniors (people 60 years old and up): Pfizer's RSV vaccine and GSK's RSV vaccine. "The news reports and the data that's been released look favorable for both," Dr. Englund says.
Pfizer's vaccine was 66.7 percent effective in protecting against RSV-associated lower respiratory tract illness, defined by two or more symptoms, and 85.7 percent effective in staving off severe disease, defined as three or more symptoms, according to a release by the company in August 2022.
Trial results for the GSK vaccine were also impressive, showing it to be 83 percent effective at preventing disease in the lower lungs in people 60 and older, and 94 percent effective at preventing severe RSV disease in people 70 and older with underlying medical conditions, per the company.
"In my opinion, this is great news. We need an RSV vaccine for older people," says Englund. While most healthy men and women don't have a problem recovering from RSV (the virus can cause cold-like symptoms that go away in a week or two), RSV in adults can sometimes lead to dangerous complications. Between 60,000 and 120,000 older adults are hospitalized with RSV annually, and between 6,000 and 10,000 die of the virus, according to the Centers for Disease Control and Prevention (CDC).
Moderna is also developing an RSV vaccine for adults 60 and older with the same mRNA technology utilized for its COVID-19 vaccine. The Moderna vaccine was granted a "Breakthrough Therapy Designation" by the FDA earlier this year. According to a January 17 company press release, in the phase 3 trial, the vaccine showed an efficacy of 83.7 percent against RSV infection, defined by two or more symptoms. The company plans to submit the vaccine for regulatory approval in the first half of 2023.
RSV Vaccines for Babies May Be Here Soon
The FDA is also expected to grant approval soon for a Pfizer vaccine aimed at protecting infants from RSV.
"The Pfizer RSV vaccine is a maternal vaccine — the mother is immunized, and the antibodies are passed on via the placenta so that at the time of birth, the baby is protected. This is a type of passive immunity," says Englund.
In November 2022, Pfizer released topline results on the vaccine showing an efficacy of 82 percent against hospitalization in infants under 90 days old, and 69 percent among those younger than 6 months. At that time, Pfizer announced plans to apply for FDA approval by the end of the year.
"Decreasing the rate of hospitalization in the first 90 days of life is a significant benefit, as the youngest children are at the highest risk for severe RSV," says Amesh A. Adalja MD, a senior scholar at the Johns Hopkins Center for Health Security in Baltimore.
It's estimated that each year RSV leads to 2.1 million doctor visits and 58,000 to 80,000 hospitalizations in children younger than 5, according to the CDC.
An RSV Antibody Treatment for Infants and Babies Also Shows Promise
On January 5, Sanofi and AstraZeneca submitted an application for FDA approval of their monoclonal antibody treatment nirsevimab to prevent RSV infection in newborns, infants, and children up to 24 months of age, according to an announcement by the companies.
An FDA decision is expected by the fall of 2023. The single-dose long-acting antibody has already been approved by both the European Union and by the United Kingdom's regulatory agency.
These special antibodies are given to the baby as a shot and would last for up to six months. In clinical trials, nirsevimab was 79.5 percent effective against RSV-associated lower respiratory tract infections that were serious enough to require medical care, including hospitalization.
Why Isn't There an RSV Vaccine Already?
Scientists have been trying to develop a vaccine for RSV for more than 50 years. In 1966, a trial was halted after two deaths and the hospitalization of 80 percent of the infants who received the experimental inoculation, which contained an inactive version of the entire virus, according to a paper published in November 2022 in Science.
After the failed trial, researchers realized there were fundamental scientific problems that needed to be solved to create a successful vaccine, and that's been done only recently, says Dr. Adalja.
In RSV, a molecule called the F protein rearranges its structure when the virus infects and joins with a cell. Researchers determined that the failed RSV vaccines of the past were using F protein in an altered (post-fusion) shape that did not generate beneficial antibodies and actually caused harm, Adalja says.
Using innovative means, researchers were able to "pin" the F protein of RSV in its original correct shape (before it fuses with a cell) in order to generate the type of immunity that was protective, Adalja explains.
The team that uncovered the solution was led by Barney Graham, MD, a researcher at the Morehouse School of Medicine in Atlanta and a former researcher at the National Institute of Allergy and Infectious Diseases (NIAID), who also applied this solution to the SARS-CoV-2 spike protein for the COVID-19 vaccine, says Adalja.
Once a means of accomplishing this was found, vaccine developers were able to move forward, he says. "Multiple companies seized on this opportunity once this basic science problem was solved, due to the enormous burden that RSV exacts, conferring a major market opportunity."
RSV Vaccines Could Be Game Changers in Public Health
"The approach of RSV vaccines would mark the end of RSV being a major threat to human health," says Adalja.
"From a public health perspective, I believe these vaccines and treatments mean that we will soon have interventions that can prevent RSV in babies and most vulnerable people," says Englund.
In addition to preventing severe illness and death, the vaccines will improve the overall lung health of infants, said Dr. Graham, in an interview in the aforementioned Science article. "If they're infected with RSV very early in life and develop severe disease, that affects their lung development and overall lung health probably for their lifetime. So the goal here is to really improve overall lung health, and that is something that's hard to calculate until you've seen it evolve over several years," he said.
Englund hopes the vaccines will be available worldwide and not just in the United States. "In the U.S., we are much better equipped to take care of babies who do get RSV compared to many other countries where babies are much more likely to die of the illness," she says.
Globally, RSV caused more than 100,000 deaths in children under 5 in 2019, with nearly half these deaths occurring in children younger than 6 months, according to a study published in the Lancet in May 2022.