Lupus & Pregnancy: Advancements in Research & Future Directions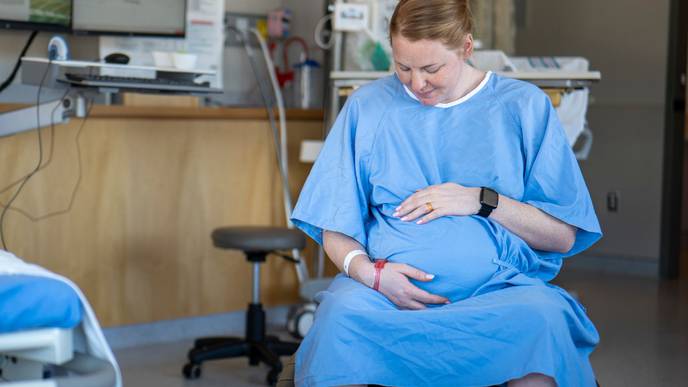 05/11/2023
Lupus: a chronic disease that disproportionately impacts women
Women with lupus are no longer counseled not to get pregnant
Increased risks in pregnancy caused by lupus
Improving health outcomes in pregnant women with lupus
Future directions in lupus research
References 
Further reading 
---
Lupus is a life-changing disease that has long threatened women's pregnancies. Thanks to advancements in research into lupus, women face less risk today than they did 50 years ago, and doctors no longer discourage women with lupus from conceiving. More research is needed, however, further to improve health outcomes for pregnant women with lupus and protect women at disproportionate risk.
Lupus: a chronic disease that disproportionately impacts women
Lupus is a chronic disease for which there is currently no cure. It is estimated to affect 1.5 million Americans and at least 5 million more globally. The autoimmune disease causes inflammation and pain that can afflict almost any part of the body. It affects the body's organs, including the skin, kidneys, and heart. The cause of lupus is still unclear, although recent research has begun to reveal the important role of genetics in establishing the disease.
Women are disproportionately affected by lupus. As many as 9 out of 10 people living with lupus are women. In addition, it most often develops when women are of childbearing age. Considering the increased prevalence of lupus in women of childbearing age is vital to mitigating the impact of the disease, which can cause serious complications during pregnancy.
Women with lupus are no longer counseled not to get pregnant
Today, women with lupus can have normal pregnancies thanks to advancements in science and our understanding of the disease that have occurred in recent decades. Not that long ago, in the 1970s, women with lupus were discouraged from getting pregnant due to the risks posed to the mother and baby during pregnancy due to the disease.
Thankfully, science has progressed since this time. While it is understood that lupus can increase the risk of numerous pregnancy complications, we better understand how to monitor for these risks and how to mitigate them. While a woman with lupus can have a normal pregnancy, she is, however, considered to have a "high-risk pregnancy," although this does not mean that complications will definitely happen.
Increased risks in pregnancy caused by lupus
During pregnancy and birth, women with lupus are at a greater risk of a multitude of pregnancy-related conditions and maternal death. Roughly 1 in 5 women with lupus get preeclampsia while pregnant, a serious condition that requires immediate treatment. In addition, it is well documented that women with lupus are at a greater risk of infection during pregnancy, early breaking of the amniotic sac, preterm delivery, miscarriage, stillbirth, and unplanned cesarean section. Studies have shown that women with lupus are also more likely to have other medical conditions, such as diabetes, hypertension, and thrombophilia, which can contribute to adverse pregnancy outcomes.
Improving health outcomes in pregnant women with lupus
Fortunately, medical science has advanced in recent decades, which has helped to reduce some of the risks women with lupus face during pregnancy. Between 1960 and 2003, the rates of miscarriages and other pregnancy loss in women with lupus fell from 40% to 17%.
Other studies have shown that pregnancies in women with lupus are increasing while in-hospital mortality in this cohort is decreasing. Between 1998 and 2000, the in-hospital mortality rates for pregnant women with lupus were 442 per 100,000 admissions; this fell to <50 per 100,000 admissions from 2013-2015.
While in-hospital maternal mortality also declined for patients without lupus, this decline was nowhere near as drastic. The study also showed that fetal deaths declined during this period and that this decline was more dramatic in women with lupus than women without.
Finally, in recent years, we have also seen rates of preeclampsia or eclampsia and length of hospital stay reduced in women with lupus.
This improvement in health outcomes in women with lupus is thanks to the major advances achieved by lupus research in the last two decades. Research is developing novel diagnostic tools that offer early diagnosis and monitoring of lupus. This can translate to better health outcomes for women with lupus during pregnancy, as many risks can be exacerbated by worsening symptoms of lupus - which can be mitigated by early diagnosis.
Changing Treatment Perspective on Lupus and Pregnancy
Further to this, research has also resulted in new lupus drugs gaining market approval. In 2011, the FDA approved belimumab for the treatment of lupus, and it was the first lupus-specific drug ever approved by the FDA. In 2021 the FDA approved voclosporin, the second drug approved specifically to treat lupus. Remarkably, in 2021 the FDA also approved anifrolumab, the first oral medication approved to treat lupus. New medications will likely lead to better disease management and even offers the hope of disease remission. It is likely that this will translate to less-risky pregnancies for women with lupus.
Future directions in lupus research
In the coming years, work will likely continue to pursue the development of new and improved diagnostic tools for lupus with the hope of better controlling the disease. However, it is also important that research also focuses on protecting women at disproportionate risk. Studies have shown that African American, Alaska Native, Asian, Hispanic/Latina, Native American, Native Hawaiian, and Pacific Islander women are more likely to develop lupus than white women.
Currently, the relationship between race and lupus is not fully understood. It is, therefore, crucial to establish why lupus affects different races disproportionately so that all women can be equally protected from the risks that pregnancy poses to women with lupus.
References