Peanuts May Pack a Punch for Women's Health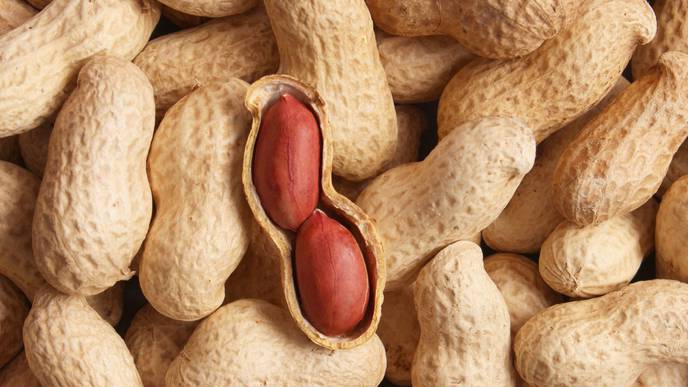 04/12/2023
Hot flashes, mood swings and sleep issues related to the onset of menopause may have a new source of relief: peanuts. Ondulla Toomer, a research chemist with the U.S. Department of Agriculture's Agriculture Research Science (USDA-ARS), is interested in how these mighty legumes may benefit women's health.
"As an African American woman and mother of two, I am passionate about women's health-related issues, nutrition and scientific research," says Toomer. "Women's health and nutrition are often overlooked, and I'm not satisfied with the advice we receive as our bodies change and age. Our bodies change every 10 years and need different things as we move from young women to childbearing years to menopause."
Peanut Research Inspires New Collaboration
The primary arm of Toomer's research for USDA-ARS is identifying new uses for peanuts and peanut byproducts within animal food production and the food industry. Her research has helped nutritionally enrich meat and eggs using peanuts and peanut byproducts as alternative poultry feed ingredients. Feeding clean natural feed ingredients to poultry can enhance the nutrition and quality of the eggs or meat produced for human consumption. This leads to improved health for poultry and humans.
Additionally, she studies peanut components as functional food ingredients that offer health benefits. Functional food ingredients like prebiotics, probiotics or antioxidants in fruits and vegetables offer health-boosting or disease-fighting benefits beyond their nutritional value. In a study published last year, Toomer revealed that peanuts can reduce or prevent diet-induced fatty liver disease in mice. This led to a connection that is influencing her current research.
"Following my mice study, Chinese health practitioners reached out to me about how they use peanut skins in Chinese medicine to treat blood disorders, and it inspired me to think about other uses for peanut skins," Toomer explains.
Looking at the Overlooked
"Peanuts really are not a tree nut. They are a sister legume of soybeans. Soy is used for menopausal women to treat hot flashes because it has some estrogen-like effects. And in some Asian countries, they use peanuts to treat it as well," Toomer says.
North Carolina is one of the top producers of peanuts in the Southeast. Currently, there are a multitude of alternative therapies for women's reproductive health issues using soy, but none on the U.S. market that incorporate peanut by-products.
In future studies, Toomer plans to examine how peanuts and their bioactive components can be used as  functional food ingredients to mitigate women's reproductive health issues.
"Peanuts are widely grown in the U.S. Southeast, so it would be to our benefit to find a greater utilization and utility within our animal feed and human food systems," Toomer says.
In 2023, Toomer's peanut research will parallel some of the studies that have already been done with soybeans. Her hope is to prove that peanut skins can be beneficial to human health and provide a natural way to achieve health and wellness.
"My focus is on things that are overlooked – specifically women's health," says Toomer. "There needs to be a new thought process for women and health and nutrition, and I want to discover that."